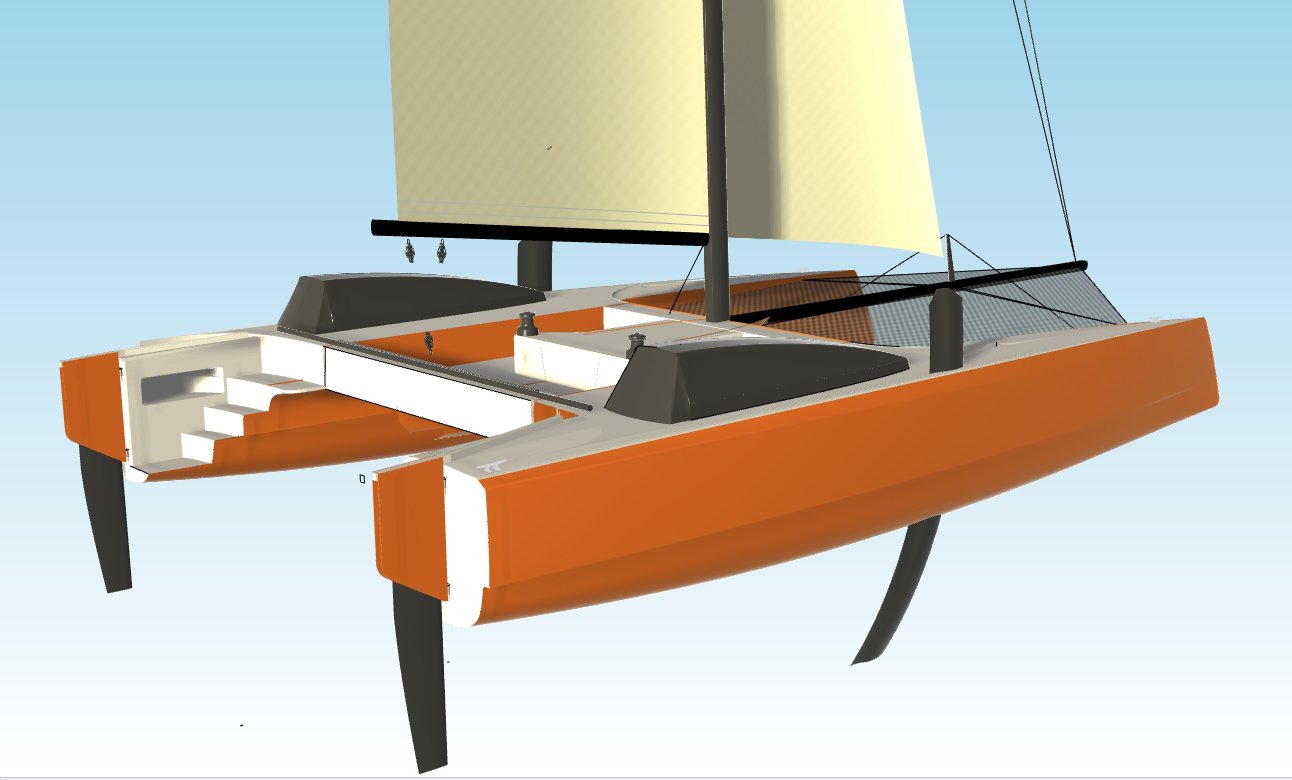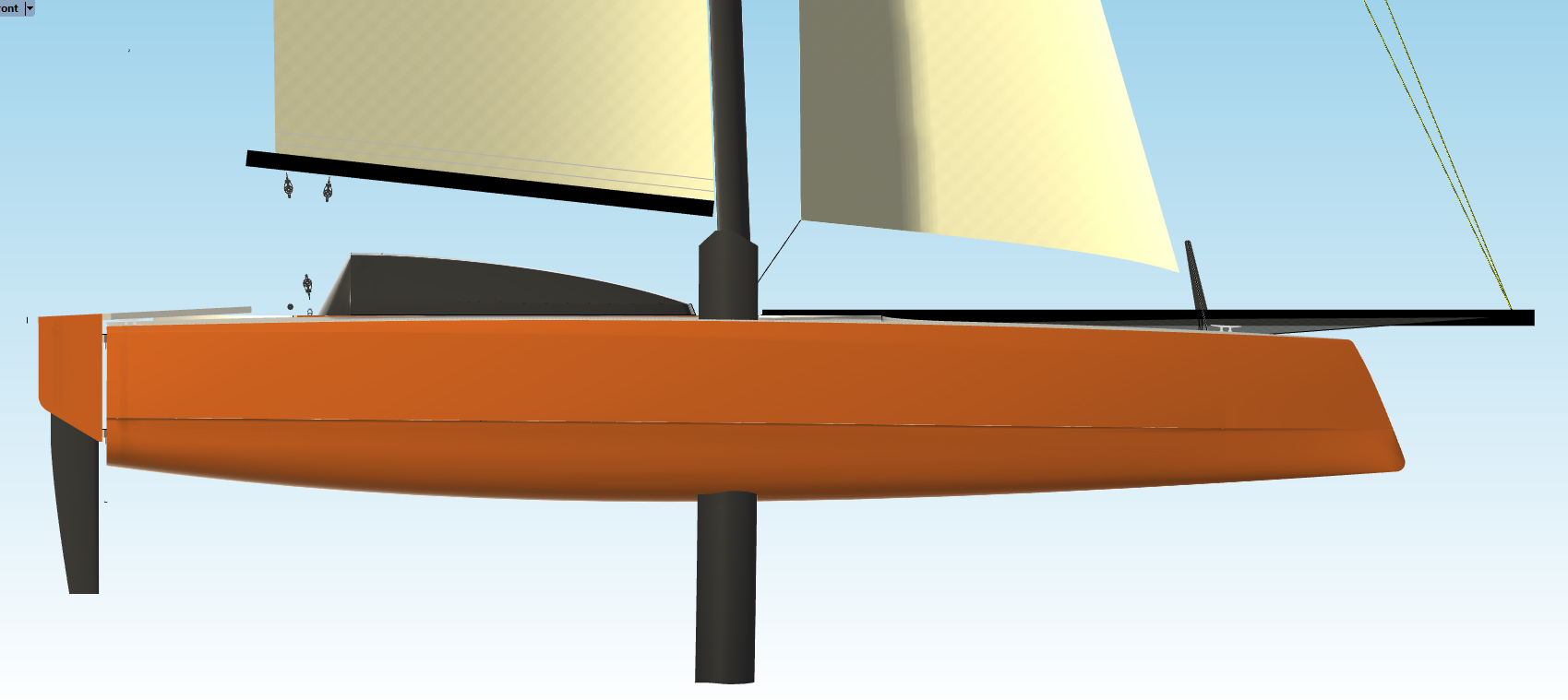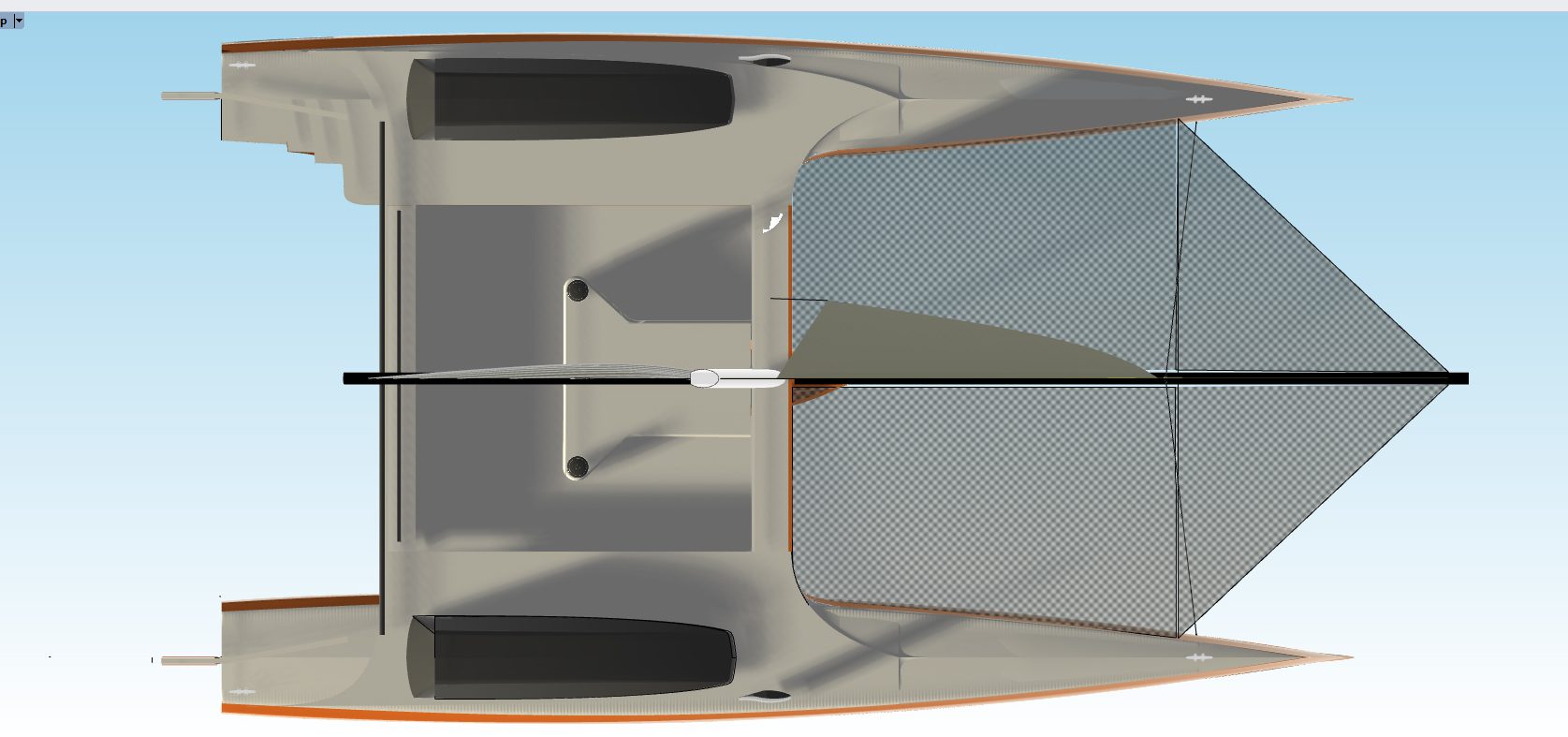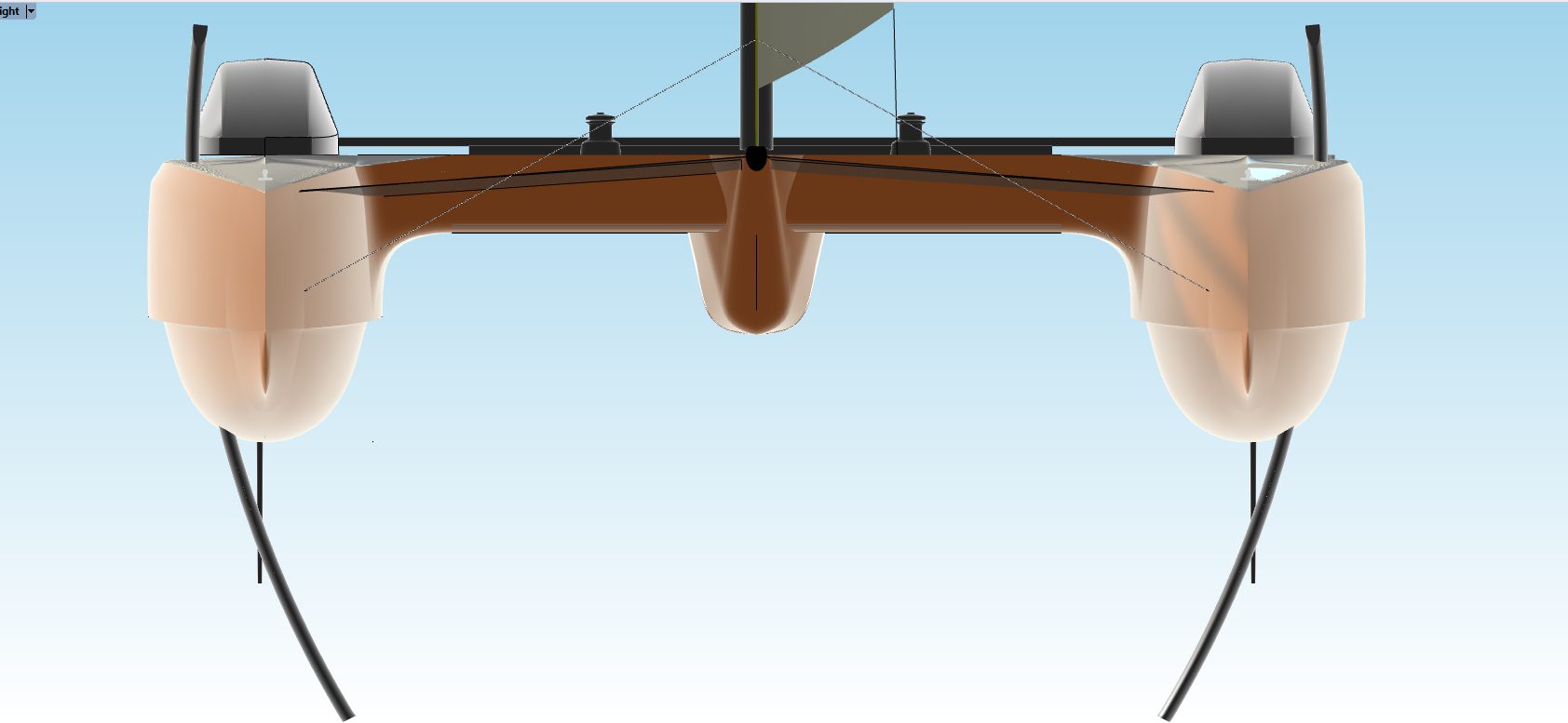 Phillips Boatworks is thrilled to unveil the pH 850 Catamaran. Measuring an 8.5 meter (28 ft) waterline with a 5.2 meter (17 ft) overall beam, the pH850 is a light and powerful performer. The comfortable hard aft cockpit sets this design apart from Grand Prix and Americas Cup cats than normally are all trampoline, but opens wide the enjoyment of high performance catamaran sailing to all levels of sailing. Lightship weight of 1200 lbs carbon fiber hull construction sets the pH 850 apart from all other production multi-hulls.
Specifications
LWL – 28 feet
LOA – 30 feet
Beam Over All – 17 feet
Hull Beam – 39 inches
Waterline B/L Ratio – 12:1
Mast Clearance – 48 feet
Draft Boards Up – 8″ Boards Down 5′
Mainsail Area – 302 sqft Solent 128 sqft = 430 sqft working sail area
Designed Lightship Weight – 1200 lbs
Trailer Width – 8.5′
Innovative and Simple. The pH 850 decommissions to ride behind any average car on its trailer 8.5 feet wide. The interior is sparse but useful for light cruising and camping adventure, featuring twin births in each hull with head and galley options. The ultralightweigh carbon twill canopy covers slide forward to open up head room above the cabin sole. When shut, the canopies are significantly water tight. Paired with a mast head water activated flotation option, the vessel can be righted if ever capsized.
Featuring exterior design that make for incredible sailing experiences. Transom steps with a water level platform and fresh water shower make the pH 850 very friendly for snorkeling, swimming, and diving. Rudders for recreational sailing kickup automatically as they touch bottom still or high aspect racing rudders for those more competitively purposed. Aft there is a hard center cockpit with a comfortable seat height of 12 inches not counting any cushion upholstery. In the center front of the cockpit is a control console consolidates most of the rigging controls are fed to the 2 primary 2 speed 40:1 self tailing winches. In front of the rotating mast there is spacious and comfortable trampoline. Nothing beats a catamaran for its large open and dry trampoline forward space which makes it like sailing while in a hammock.
Hull shape that looks good and makes sense. Starting with a fast and narrow 12:1 waterline ratio this shallow 8 inch draft hull rises first to a splash chine that serves multiple purposes. In addition to looking good, it widens the interior sufficient enough for twin births. The splash chine helps insure a dryer ride. It is a safety feature — when pressing the boat really hard, as the hull submerges, bouyancy is stepped up as the chine submerges. Structurally, the chine is a longitudinal hull stiffener a bit like 4 I-beams running the length of the hulls. From the Splash Chine the topsides rise up to the deck chines which research shows to to reduce windage on the side of the hulls. Under the canopy openings and merged into the cockpit the deck features a flush raised deck helping to make the interface between removable cockpit and hull sides a simple flat face connection.
No Beams! – For the most part the cross beams are eliminated making the trailer and decommissioning process even more simple. When collapsed on the trailer, the inner hull flanges mate together for hull stability on the trailer while the cockpit is hoisted up and out out of the way, without removing any of its components or systems.
My family has a passion for this design because it is exactly what we all like. From our youngest 1 year old baby girl, who is much safer in the hard aft cockpit, to our adventurous 6 and 10 year old boys who love surfing, swimming and other watersports. We like to keep our boat on a shallow water mooring where it only takes a few minutes to hoist the mainsail, release the mooring line and be off sailing. If you like actually sailing, this is a boat that is so convenient and simple to get going, that getting in a sail before or after work becomes part of your daily routine. With a 45 foot rig and ample sail area above the water—asymmetrical curved daggerboards and high aspect cassette rudders (as an option) this is an extremely fast and competitive catamaran. The curved daggerboards in each hull generate enormous upward and windward lifting force and righting moment, the pH 850 will not only go fast, but also point extremely well upwind. Add in the wave piercing bows and wide transom underwater section, this is a hull that will ride very smoothly though even the most aggravating choppy sea conditions. And when there is no wind, the aux propulsion is stowed underneath the hard cockpit inside a nacelle shape that deflects wave chop from slapping the bridge deck, as well as act as a very legitimate stiffener for the cockpit sole.
Race it, Charter it, Adventure Sail it, and Trailer it to destinations that are begging to be explored. The pH 850 is a great investment in fun for family and friends…. or you can make it a business and find a fun spot to offer Captained Daysail Charters.