Phillips Boatworks adds two Hobie 18 catamarans to charter fleet for adult sail training and bareboat sailing
Phillips Boatworks has added two Hobie 18 catamarans for adult sail training and boat rental in Avon on Hatteras Island, NC. If you are on vacation in Avon on Hatteras Island and know how to sail, you can take out the Hobie cats without a skipper under the right weather conditions.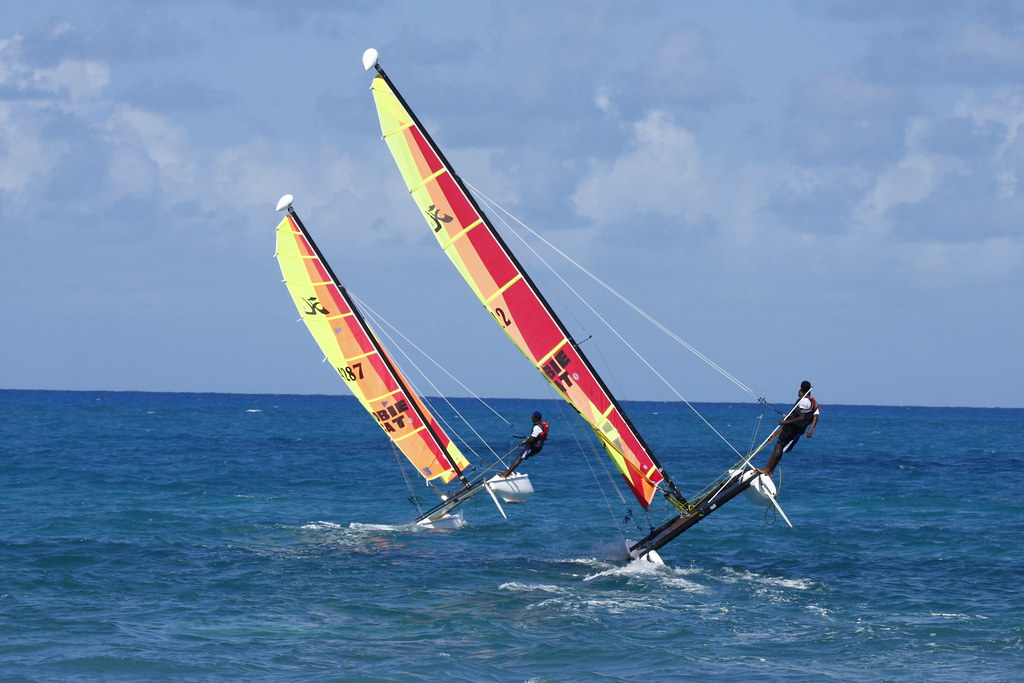 What to lean to sail?
Hobie Card certification
Even if you sailed when you were younger, sailing a high performance catamaran can be a new skill, and a great fun way to get out and get active while you are here on Hatteras Island. Sailing a Hobie cat is athletic and fun. Get out and into the action!
1.5 hour experience
sail with instructor on board
solo test sail
get certified for bareboat rental
Intro to Sailing
Never, ever sailed? No problem. Ease into the fun of sailing in a safe and enjoyable way with patient and kind instructors. Sailing is a lifetime sport, and now is the best time to learn with our private intro to sailing lesson.
1.5 hour experience
private lesson
understand the points of sail
45 minutes hour sailing with instructor
Multihull Mastery
If you are an experienced monohull sailor, you may not realize just how different catamaran sailing can be. Spend time with an experienced catamaran sailor focusing on the differences between handling a performance catamaran and a monohull. Then get out on the water and feel the difference as you "fly" away on a Hobie 18.
1.5 hr experience
discussion on the rigging
upwind sailing on a cat
making it through a tac
practice flying a hull safely and under control
learn your way to Hobie Card for bareboat rentals
Book a Hobie Cat Learning Session with Capt. Jay