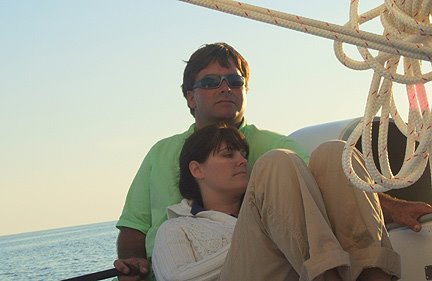 Capt. Jay Phillips has worked in the yachting industry since the age of 14 refinishing boats at his local boat yard in Havre de Grace, MD. Before finishing college he obtained and fixed up his first daysail charter boat getting his feet wet as a charter skipper.
After running his Stiletto for a few years, he moved to Annapolis MD with the objective of mastering his captain skills. Even at such a young age, Jay appreciated that a charter yacht operator must know how to keep the vessel well maintained and discreetly remedy issues without alarming passengers. With this goal in mind, Jay spent years of working as a Rigger, Sailmaker, Professional Instructor and Performance Sailor.
Showing aptitude and excellence in the mechanical and technical, frequent opportunities arose building new boats, refurbishing older boats, and improving existing yachts.
Through decades of boatbuilding projects, charter skippering, and yacht deliveries Jay has become very intimate with the waters of the Bahamas, Virgin Islands, Mexico, Chesapeake, New England, Florida Keys, Gulf of Mexico, Bermuda.
Jay and his wife, Meg, and children, Noah, Beau, and Bunny live in the village of Avon on Hatteras Island, Outer Banks, NC, USA.