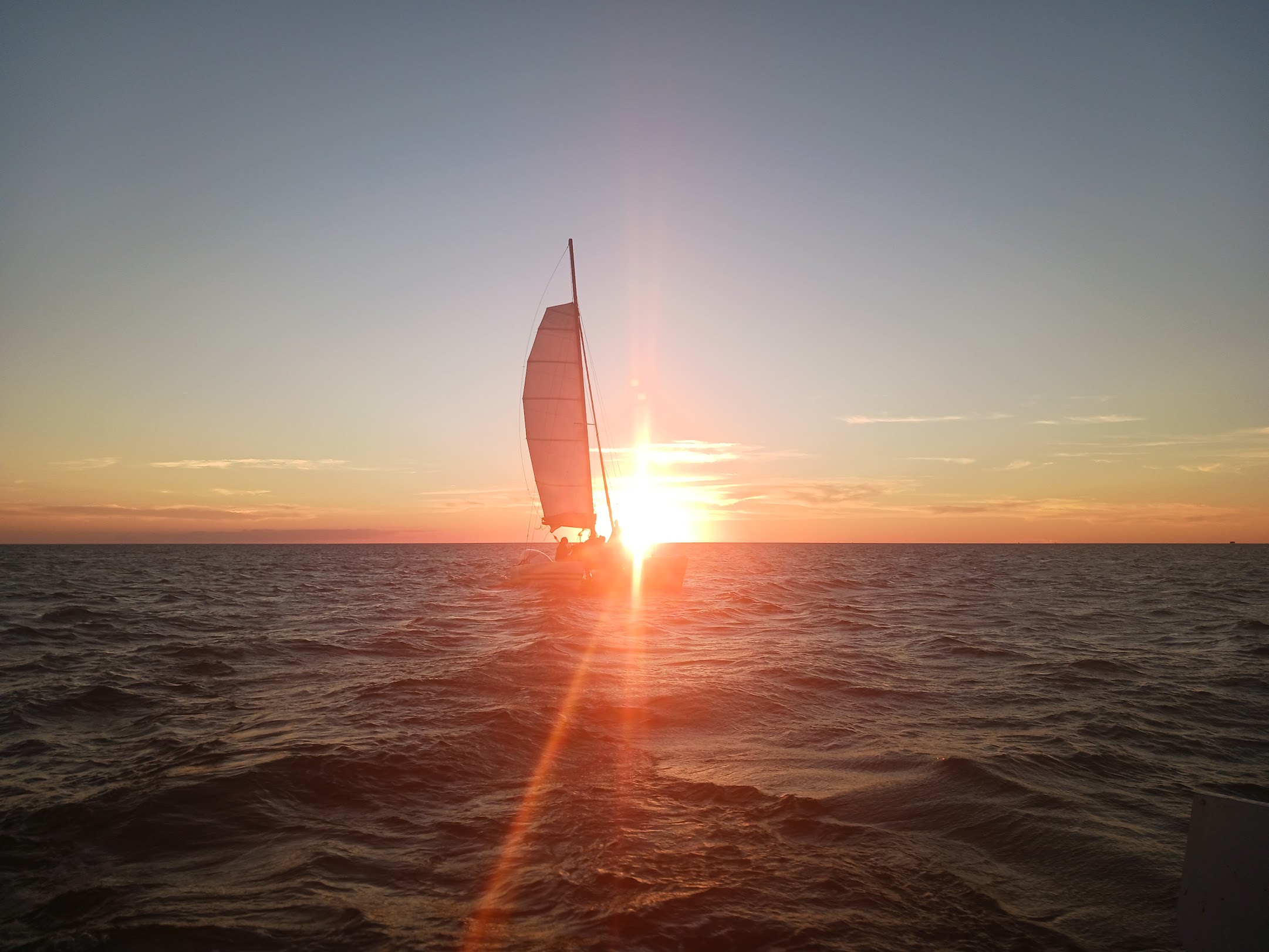 About Phillips Boatworks
A Family Who Sails Together…
Phillips Boatworks is a family owned and operated Outer Banks Sailing and Marine Services company located in Buxton, Cape Hatteras on the Outer Banks of North Carolina. After more than 65 combined years in the sailing industry, The Phillips Family relocated onto Hatteras Island in 2018 and began offering sailing charters and marine services on Cape Hatteras.
For more than 40 years founder Jay Phillips has been working in the Sailing industry – racing, sailmaking, rigging, building and teaching. "We take people sailing for the first time and help them level up their skills, boats, parts, rigging, and sails. It is just what we do. All of us. Bunny isn't teaching yet, but she will be soon enough", says Jay Phillips of his family. Sailing is a whole family affair for the Phillips. Jay and his wife are both certified sailing instructors and USCG Licensed Captains. In 2020 during the Covid Pandemic, they founded Hatteras Sailing Organization during a time when other sports were closed and the local kids really needed outdoor activities. "I wanted my kids outside and playing with other kids, and so did other parents. We were lucky. Hatteras Sailing got a kickstart in the vacuum of Covid and has been going strong ever since", says Meg Phillips.
Together in 2015, Meg & Jay developed and launched the Stiletto-X Series Catamarans, and are currently working. on a similar line of Phillips Catamarans called the pH-Series with two models, 8.5m and 10m, high performance daysailing catamarans in the style of the classic Stiletto-27 Catamaran used by Phillips Boatworks in their charter business.
Our Founders
Captains Jay & Meg Phillips
Capt. Jay Phillips has worked in the yachting industry since the age of 14 refinishing boats at his local boat yard in Havre de Grace, MD. In 1984, Phillips bought a Stiletto-27 Catamaran daysailing business at Fager's Island Restaurant in Ocean City. After running his Stiletto Catamaran Charter for about 5 years, he moved to Annapolis MD to level up hone his competitive and professional sailing skills. Jay lived in Eastport Annapolis just behind the Chart House for the next 10 years and in the heart of the "Sailing Capitol of the World". He focused on racing high performance yachts and fell in love with high tech catamarans. He worked professionally as a sailing coach, charter captain, rigging technician, sailmaker, and boat builder as part of his effort to balance and improve his understanding of yacht performance and offshore safety.
Through decades of boatbuilding projects, charter skippering, and yacht racing Jay became intimate with the waters of the Bahamas, Windward and Leeward Islands, Yucatan, Chesapeake, New England, Florida Keys, Gulf of Mexico, and Bermuda. "Sailing opens doors for exploring new places, competition and meeting new friends", according to Phillips. The ocean is a lifelong passion and he remains committed to sharing this passion with a new generations of sailors.
In 2006, Jay returned from living in the British Virgin Islands and settled in Fort Myers, Florida where he met Meg at McGregor Baptist Church. They bought a Stiletto-27 in 2007, spent their courtship sanding and finishing the catamaran, married in 2008, and had Noah in 2009. In 2013 they moved to the Outer Banks of North Carolina and Beau Dudley Phillips was born in December of that year. Together from 2015 to 2018 they developed and launched the Stiletto X-Series, and in 2018, Meg & Jay moved to Hatteras Island. Bunny was born in May of 2019, and she began sailing Opti in the summer of 2022. Beau teaches beginner Optimist and hopes to campaign seriously in 2023/24. Noah sails Stiletto-27, Hobie-18, and C420, and is on the lookout for the right C420 partner. Currently, Jay is the Chairman of the Board for Hatteras Community Sailing and Meg is the Program Director. Together with their children, they own and operate Phillips Boatworks.
Our History
January 1, 2019
360 Yachting – Charter Yacht Management
Managed marketing, maintenance and execution of 1000's of Bareboat and Crewed Charters in the Bahamas, Keys, Gulf of Mexico. Sailing and Power Yachts from 36 – 60 ft
January 1, 2019
January 1, 2019
Gunboat International
Rigging Team Leader for the new Gunboat 55 line of luxury all carbon epoxy resin infused performance catamarans
January 1, 2019
January 1, 2019
Stiletto-X High Performance Catamaran
Founder and Product Developer of the Stiletto X Series Catamaran Design. Founded production facility and built new prepreg carbon design demountable trailerable 33 ft high performance catamaran
January 1, 2019
January 1, 2019
Custom 72′ Schooner, Belle
Project Management of this 60′ LOD 72′ LOA Traditional Schooner. Specified, Designed and Installed all inboard systems on the vessel – Generator, Plumbing, Drivetrain, Steering, Gray/Black Water, Exhaust, HVAC. Designed Rig and Sail Plan.
January 1, 2019
January 1, 2019
New! pH850 High Performance Catamaran
Designed a new 8.5 meter demountable ultra lightweight prepreg carbon catamaran. Prototype construction, marketing, and outsourcing of parts production. Final Assembler
January 1, 2019
Boat Building Projects
Some highlights of Captain Jay's yachting experience include:
30 Years as a Licensed 50 Ton USCG Captain running Power and Sailing Yachts up to 97 Feet
25 Years Teaching Sailing and Cruising Programs via ASA and US SAILING Certified Schools such as JWorld Annapolis and Colgate, certifying over 1000 sailing students through Basic Sailing, Near Coastal, Bareboat Charter, Navigation, North U, Advanced Coastal Cruising, and various specialty racing clinics.
Over 150,000 logged sea miles, counting all deliveries, charters, instruction, sea trials, and solo offshore passages
Charter Captain for over 200 Crewed Caribbean (7 day charters) Charter Vacations. 50+ Bahamas Charters, 50+ Chesapeake Charters, 35+ Fl Keys Charters
Franchise Owner of Quantum Sail Design Caribbean Territory
Founder and Owner of North Sails BVI Sail Loft in Tortola, BVI
Founder and Owner of 360 Yachting – Yacht Management, Bareboat Charters, Crewed Charters, and Sailing School in Fl Keys and Bahamas
Product Developer and Builder of the new Stiletto X Series Catamarans
Designer and Builder of the new pH 850 Catamaran
Proven Tactician, Coach and Helmsman in countless One Design and Fleet Regattas Internationally (J22, J24, J80, Melges 24, Mumm 30, Tartan 10, IC14, IC24, J105, J120, J30, J29,) One Design Classes
Numerous Power and Motor Yacht Captain Work ranging from Annapolis Water Taxi's to 97 ft Broward Megayacht, including Offshore Sportfishing, Inshore Fishing Tours, 25 Passenger Ferry, 50 Passenger Tour Boats, 350 Passenger Tour Boat, 50′ Sea Ray Charters in BVI, and Sunseeker Yachts in the BVI.
Jay and his wife, Meg, and children, Noah, Beau, and Bunny live in the village of Avon on Hatteras Island, Outer Banks, NC, USA.