Our Founder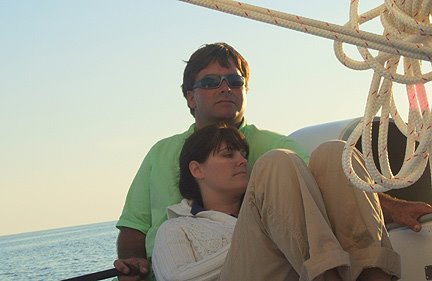 Captain Jay Phillips
Capt. Jay Phillips has worked in the yachting industry since the age of 14 refinishing boats at his local boat yard in Havre de Grace, MD. Before finishing college he obtained and fixed up his first daysail charter boat getting his feet wet as a charter skipper.
After running his Stiletto for a few years, he moved to Annapolis MD with the objective of mastering his captain skills. Even at such a young age, Jay appreciated that a charter yacht operator must know how to keep the vessel well maintained and discreetly remedy issues without alarming passengers. With this goal in mind, Jay spent years working as a Rigger, Sailmaker, Professional Instructor and Performance Sailor.
Showing aptitude and excellence in the mechanical and technical, frequent opportunities arose building new boats, refurbishing older boats, and improving existing yachts.
Through decades of boatbuilding projects, charter skippering, and yacht deliveries Captain Jay became very intimate with the waters of the Bahamas, Windward and Leeward Island, Yucatan, Chesapeake, New England, Florida Keys, Gulf of Mexico, and Bermuda.
Our History
360 Yachting – Charter Yacht Management
Managed marketing, maintenance and execution of 1000's of Bareboat and Crewed Charters in the Bahamas, Keys, Gulf of Mexico. Sailing and Power Yachts from 36 – 60 ft
Gunboat International
Rigging Team Leader for the new Gunboat 55 line of luxury all carbon epoxy resin infused performance catamarans
Stiletto-X High Performance Catamaran
Founder and Product Developer of the Stiletto X Series Catamaran Design. Founded production facility and built new prepreg carbon design demountable trailerable 33 ft high performance catamaran
Custom 72′ Schooner, Belle
Project Management of this 60′ LOD 72′ LOA Traditional Schooner. Specified, Designed and Installed all inboard systems on the vessel – Generator, Plumbing, Drivetrain, Steering, Gray/Black Water, Exhaust, HVAC. Designed Rig and Sail Plan.
New! pH850 High Performance Catamaran
Designed a new 8.5 meter demountable ultra lightweight prepreg carbon catamaran. Prototype construction, marketing, and outsourcing of parts production. Final Assembler
Boat Building Projects
Some highlights of Captain Jay's yachting experience include:
30 Years as a Licensed 50 Ton USCG Captain running Power and Sailing Yachts up to 97 Feet
25 Years Teaching Sailing and Cruising Programs via ASA and US SAILING Certified Schools such as JWorld Annapolis and Colgate, certifying over 1000 sailing students through Basic Sailing, Near Coastal, Bareboat Charter, Navigation, North U, Advanced Coastal Cruising, and various specialty racing clinics.
Over 150,000 logged sea miles, counting all deliveries, charters, instruction, sea trials, and solo offshore passages
Charter Captain for over 200 Crewed Caribbean (7 day charters) Charter Vacations. 50+ Bahamas Charters, 50+ Chesapeake Charters, 35+ Fl Keys Charters
Franchise Owner of Quantum Sail Design Caribbean Territory
Founder and Owner of North Sails BVI Sail Loft in Tortola, BVI
Founder and Owner of 360 Yachting – Yacht Management, Bareboat Charters, Crewed Charters, and Sailing School in Fl Keys and Bahamas
Product Developer and Builder of the new Stiletto X Series Catamarans
Designer and Builder of the new pH 850 Catamaran
Proven Tactician, Coach and Helmsman in countless One Design and Fleet Regattas Internationally (J22, J24, J80, Melges 24, Mumm 30, Tartan 10, IC14, IC24, J105, J120, J30, J29,) One Design Classes
Numerous Power and Motor Yacht Captain Work ranging from Annapolis Water Taxi's to 97 ft Broward Megayacht, including Offshore Sportfishing, Inshore Fishing Tours, 25 Passenger Ferry, 50 Passenger Tour Boats, 350 Passenger Tour Boat, 50′ Sea Ray Charters in BVI, and Sunseeker Yachts in the BVI.
Jay and his wife, Meg, and children, Noah, Beau, and Bunny live in the village of Avon on Hatteras Island, Outer Banks, NC, USA.