Outer Banks Sailing: Hatteras Island
What to Expect
Expect to make Outer Banks Sailing from Hatteras Island your new vacation tradition. Our new location leaving from Buxton Harbor on Hatteras Island delivers adventure and memories you won't forget. Fun for the whole family, our stable catamarans are roomy, stable and perfect for shallow Outer Banks sound-side sailing.
Plan to jump in, chill out, and kick back. Kids are welcome, grandpa's are just fine also. Everyone enjoys this #SailStiletto experience. Sunset sails are our most popular experience.
Guest Testimonial
Once in a lifetime experience. The search for your ultimate OBX vacation activity starts here. Captain J took my whole family out for a sunset cruise (5yr old and 7yr old). He provided us with not only stunning views of the July sunsets but an evening filled with memories and laughter. You want be sorry for placing this on your things to do list. Thx again Captain J for making my children a forever memory.

Terry Lambert
Reserve Your Sailing Charter On Cape Hatteras
Phillips Boatworks offers catamaran sailing charters on Hatteras Island in 2 hour and 4 hour experiences. We have a schedule that includes morning, afternoon, and sunset sails. Our most popular sails are the sunset sailing experiences. All our sails leave from our new location in Buxton at the historic fish house location in Buxton Harbor, 48926 NC Highway 12, Buxton, NC 27920
What is the advantage of a longer 4 hour sail? The 4 hour sailing experience offer more time for swimming and exploring off the sailboat. Our catamarans are lightweight performance boats that are easily beached. On the 4hr sails, we typically pull the boat up on a sandbar so that our guests can hop off the boat, take a swim, harvest some clams, and learn more about the local soundside marine life.
Why choose the shorter 2hr sail? The 2 hour sails are great for a relaxing sailboat ride. The scenery and experience is gorgeous. Because we sail, our tours are silent and perfect for videography, photography, and conversation. If you don't need to hop into the water and just want to kick back and relax, the 2-hour sail is perfect for your group.
Sunset Sails
Morning Sails
Afternoon Sails
HAVE A LARGER GROUP? NO PROBLEM!
LARGER GROUP CHARTERS ARE AVAILABLE UP TO 12 GUESTS
Phillips Boatworks has two Stiletto-27 catamarans at our new Buxton Location. We can take larger groups with up to 12 adults sailing together in a tandem flotilla . Learn about Flotilla Sailing for larger group Sailing Charters on Hatteras Island.
The experience is even more special when your photos capture the second boat as you snap photos of your crewmates. The photography opportunities are spectacular.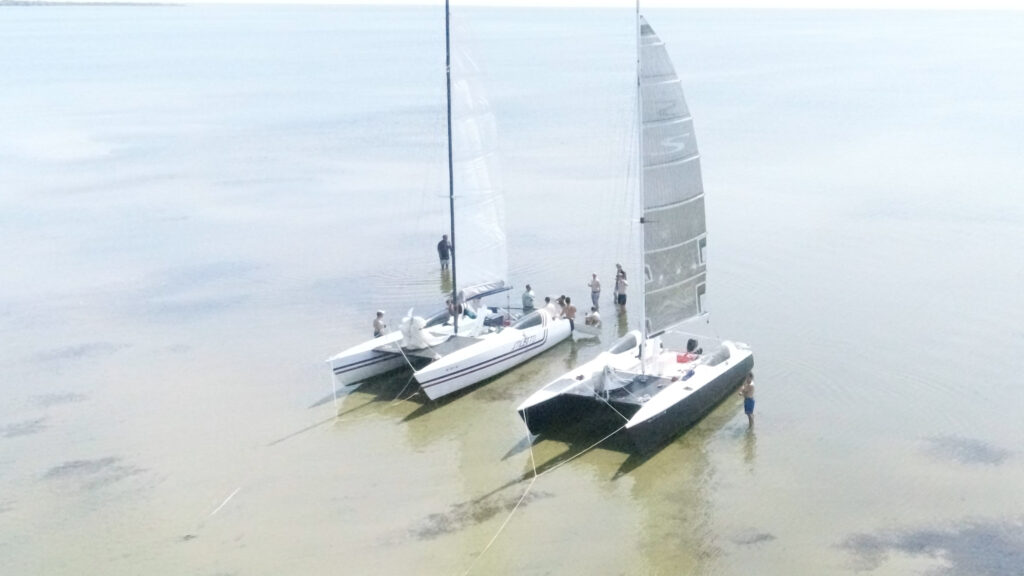 Outer Banks Sailing: Hatteras Island – Check Availability
Click any green date that you want to sail and the "tickets" will show the options available for that day. Hit the "book now" button to reserve your date. **NOTE: we do have a second boat. If you need a specific date and time which is not available or have a large party over six guests, you can check availability on our second boat, Stiletto Classic by clicking here
IS THE SAIL YOU WANTED ALREADY BOOKED? NO PROBLEM!
Book Now
Click any green date that you want to sail and the "tickets" will show the options available for that day. Hit the "book now" button to reserve your date. **NOTE: we do have a second boat. If you need a specific date and time which is not available or have a large party over six guests, you can check availability on the other boat by clicking here
fetching availabilty of 4hr Morning Half Day (8am)
fetching availabilty of 2hr Morning Sailing (10am)
fetching availabilty of 2hr Afternoon Sailing (12:30pm)
fetching availabilty of 4hr Afternoon Half Day (12:30pm)
fetching availabilty of 4hr Sunset Sail – Explore, Adventure, and Sunset
fetching availabilty of 2hr Sunset Sail