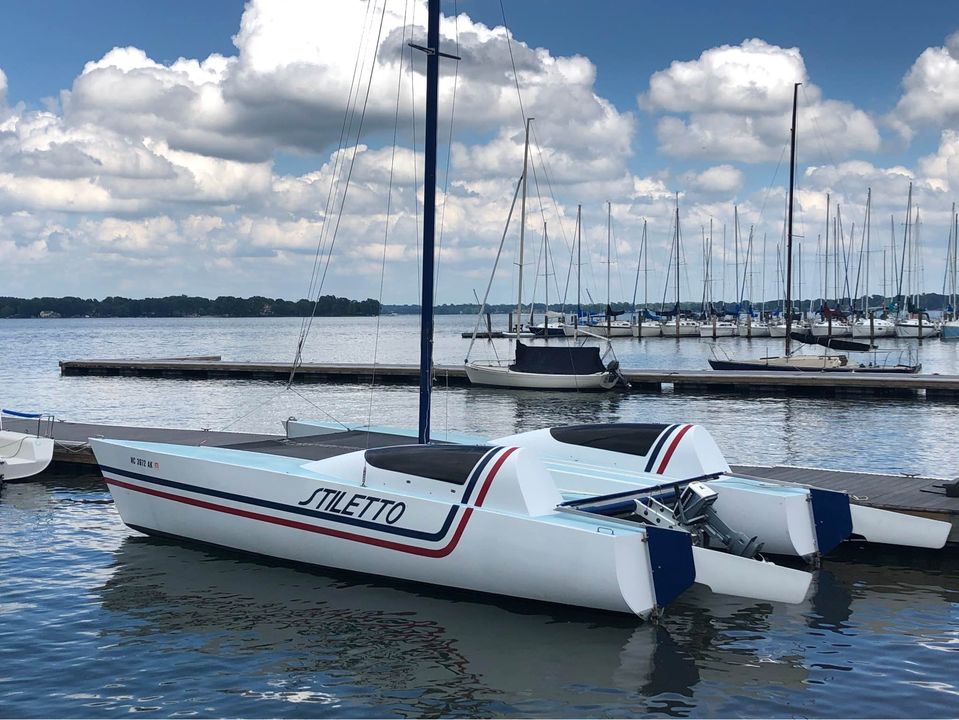 Phillips Boatworks adds a second Stiletto-27 Catamaran for sunset sails and sailing charters
Now, larger groups can sail together
We are adding another catamaran to our Avon, NC fleet for sunset sails and sailing charters. Groups and families of up to 12 adults can sail flotilla style from Avon on Hatteras Island.
What is a flotilla?
A flotilla is when two ore more boats tag along together. Historically, back in the 1990's, Capt. Jay ran flotilla cruises around the DelMarVa peninsula for SunSail Annapolis. Flotilla cruises have their origins in training new bareboat charter skippers to "learn the ropes" of bareboat cruising, but it applies really anytime multiple boats sail together. Here on the Outer Banks, with Phillips Boatworks, our flotilla sailing is a great way to accommodate larger groups.
"We get many large groups that want to sail together, and I am so excited to offer our new flotilla sunsets sails and even raid style overnights with two catamarans together so that we can accommodate the larger groups".

Capt. Jay Phillips
Have a larger group? No problem!
Book A Flotilla:
Step 1: Check availability for both boats, and find a date and charter which is available for both boats.
Step 2: Book Rendezvous IV.
Step 3: Book Stiletto Classic.
Step 4: Call or Text Captain Jay 855-410-7245 and make sure he knows that you are a flotilla group, and let us know any special requests you have for your charter. He will set up and coordinate your flotilla.
So many possibilities
Adding a second boat of the same make and model opens up other opportunities for fun new adventures here in Outer Banks Sailing. Particularly when the two boats are the same make and model with the same rigging, etc. Our team is putting together team building, class racing, cruising raids, and other fun events. Stay Tuned!
Things to do with two identical boats
class racing
team building events
raid-style cruising camping adventures
multihull race tactics clinics
Plan Ahead
If you have a larger group and want to book a flotilla style charter, please contact us directly.
If you are planning a flotilla sailing activity for a large group, please PLAN AHEAD! Our boats book up early in the season and finding a slot with both boats open can be a challenge. We suggest planning well in advance.
If you would like to book a flotilla for groups over 6 guests, it is good to reach out to Capt. Jay directly and coordinate before trying to book online.
If you have any questions on flotilla sailing, or a match racing experience on these two Stiletto-27 catamarans, Call Capt. Jay 252-489-8193.
Online Flotilla Bookings
We are setting up flotilla bookings here on our website, and expect that to come online before the end of May 2021.
"Adding a flotilla style booking feature to Charter Boat Bookings has been on our roadmap, and now our team have pulled that feature up into priority. We expect to pilot that feature with Phillips Boatworks through 2021 and roll that our to all our Charter Boat Booking travel agencies for the 2022 season".

Meg Phillips, author of Charter Boat Bookings