Nearly mint condition 1976 Hull #3 Standard Edition
Original Owner, Meticulously Maintained, Fresh Water Sailed
We found this early model Standard Stiletto 27 in North Carolina and is an amazing example of the Stiletto 27. The Stiletto-27 is the lightest and shallowest draft, hard cockpit, trailerable catamaran ever made. Built with material conventionally reserved for aerospace and The Americas Cup, this 27 foot long x 14.5 foot wide boat collapses to 8 feet wide for trailering behind any normal car with a hitch, at only 1200 lbs. This is a special boat that comes with original documentation and paperwork from Force Engineering original signatures from the first year selling boats in 1976… almost like a time warp!
Used gently and occasionally over the years on fresh water lakes for family memories and adventure, everything on board is as you would have found it if you had purchased it yourself in 1976. This is vintage boat needs to be owned and appreciated by someone who cherishes sailing history, and still wants to have fun sailing super fast! Fully equipped, this package includes: working trailer, carbon/kevlar tape drive mainsail, original jib (in good condition), 6 hp engine, Interior and Exterior cushions, canvas, re-stitched trampoline, refurbished paint, super clean and dry interior, plus many more bits and useful pieces. Serious Inquiries only.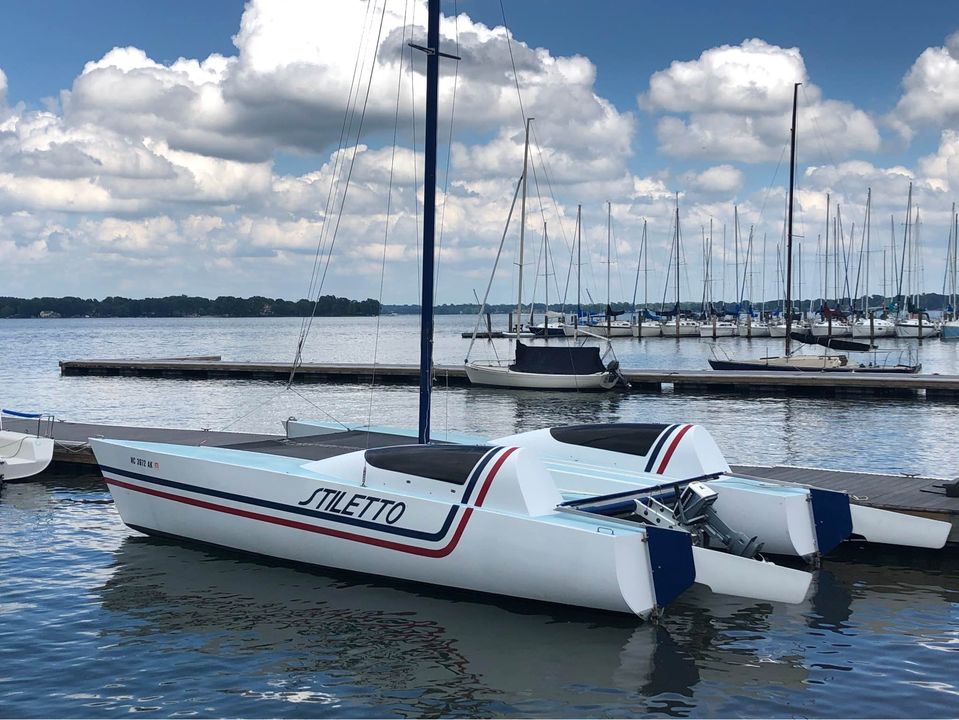 Original Stiletto 27 documentation
Original Documentation of the Stiletto 27 is hard to come by, but when you have an original owner of a boat that has never changed hands otherwise it is a special and rare situation. Below are a few samples of the original documentation saved in perfect condition over the last 43 years.
Boat Inspection
Inspected by Jay Phillips, founder Stiletto-X Series
The boat was inspected and images taken on January 20, 2021
Jay Phillips, founder and developer of the Stiletto-X Series, has experience owning and refitting the Stiletto-27 models for last 30 years. Jay developed and produced the Stiletto X-Series Catamarans with a similar prepreg laminate and honeycomb core construction. There are very few boats built using prepreg honeycomb and even fewer boat surveyors who have the proper experience to evaluate these types of composites.
Stiletto-27 Inspection Report
Impeccable condition for a boat of this age, there are just a few small maintenance issues and even fewer nicks and scratches. Jay spent more than 4 hours in a detailed inspection.
Hull Condition – Almost perfect except for some damage to the keels from the trailer rollers being in the wrong location. The keels were repaired professionally and from I can see adequately, but it is difficult if not nearly impossible to repair a prepreg laminated hull back to new condition, so the repairs are evident on the inside of the boat hull, to the discerning eye, not so much to the average person. There are no cracks around the beam interfaces to the hull, which is common on the Stiletto 27. There are no cracks along the hull deck connection, also common on many older Stiletto 27s.
Canopy Cover Condition – These Lexan Canopy Covers are not original, but have been replaced with newer covers that are in excellent condition. There were some dacron straps used for lifting the covers forward that have decayed in the UV and not been replaced. It would be very inexpensive to replace with some new webbing.
Cockpit Stress Cracks – The Owner reported one event where the centerboard hit an underwater stump while sailing at 10 knots on the lake. The centerboard framework was bent and some damage to the cockpit laminate was incurred where the metal supports attach. It looks to be repaired on the underside, but there are some light cracks visible in this prepreg fiberglass/honeycomb front seat corner on both sides of the cockpit. This is an area where the cockpit laminates have consistently been easy to damage on several of the boats I have owned. Repairing the cracked area is not a very expensive repair, but it is recommended that it be done.
Deck Nonskid and Hull Paint – This boat was refinished in the late 1990s and the wear and tear on the paint in the freshwater environment the boat is in is negligible and can be polished to look like new. The deck has an evenly coated blue non-skid.
Mast and Standing Rigging – Original rigging. The mast has been repainted and looks like a fresh paint job even though it is several years old. All the Stainless Rigging looks to be in good condition and original. The earlier masts like this one have straight spreaders and no jumper struts, whereas later models started using swept spreaders and a jumper to reduce pumping. The rig works fine, but rotation should be tightly controlled, as the straight spreader rig is a little less forgiving.
Trampoline – The Trampoline looks like an original trampoline that has been restitched with Black UV tenara thread which is in good condition. The older white dacron thread is still remnant though. The trampoline is black polypropylene and still in good condition with several years of remaining useful life. Had I not been informed that the canvas and tramp been stored indoors for many of the winter seasons, I wouldnt believe it could be a 40 yr old trampoline. The owner did upgrade from original hooks on the side of the hulls to an anodized aluminum keder track, which does make installing the trampoline easier.
Engine – A 6 hp 2 cycle older model engine that started up immediately on first try.
Rudders – Fiberglass rudders of the newer stiletto design on the boat and are in pristine condition. The new fiberglass rudders like the ones on this boat are balanced better than the original mahogany rudders.
Centerboard – Centerboard has a few paint chips and the stainless steel framework underneath the cockpit that was damaged has been replaced and in excellent condition.
Beams and Tapered Pins – These show no signs of corrosion and look very clean. The holes in the beams were clean and tight. As the boats wear, the holes sometimes get larger and you notice the pins sinking in deeper, but on this boat they were still sticking out as they would have when new. (trailering the boat in the coming days and will report on how they collapse and expand.)
Mainsheet Traveler – This boat has an early version of the original traveler with ceramic rollers and an anodized aluminum extrusion. The anodized aluminum has some minor wear and tear but is in working condition and we have a video of the traveler rollers working.
Mainsail – About 20 years ago, the original mainsail was replaced with a UK Tapedrive Mylar/Carbon Scrim Sail. The sail looks to be about 10% depreciated because of its age, but barely used and in good condition. It is difficult to tell how fast the mylar laminate will last when it starts being used again, just because of the age of the laminate adhesive. It has the UK Sailmakers Kevlar Tapes which are adhered along the load paths of the sail. These types of sails are no longer manufactured, but worked and held their racing shape pretty well. UK Tapedrives were a more economical sail that competed with the North 3dl Technology of the time period. The Original Dacron Mainsail is still in pretty good condition and has been stored well. The jib is in good condition, but is an original wire luff hanked on jib.
Hull Interiors – Both sides were bone dry and clean. Only the keel damage repair was slightly visible under the bunks. The floorboards were near mint condition as were the pipe births. The canopy gaskets have been effective in keeping out water leaks and the Standard Edition had no port lights or deck hatches to let in water leaks.
Electrical System – This boat is not equipped with any electrical system that I could see. A new buyer would most likely want to install running lights, electrical panel, battery, etc., but not necessary to sail during daylight or with battery powered running lights.
Note: Phillips Boatworks has been contracted to trailer and broker the boat. As of the last week of February 2021, the boat will be located in Avon, NC for sea trial and inspection.
Serious Inquiries