Sailing around Avon Harbor
As a charter captain doing sunset sails almost every evening in the peak of summer, I have excellent knowledge of the sailing around avon harbor. It is is shallow, unpredictable, and exciting.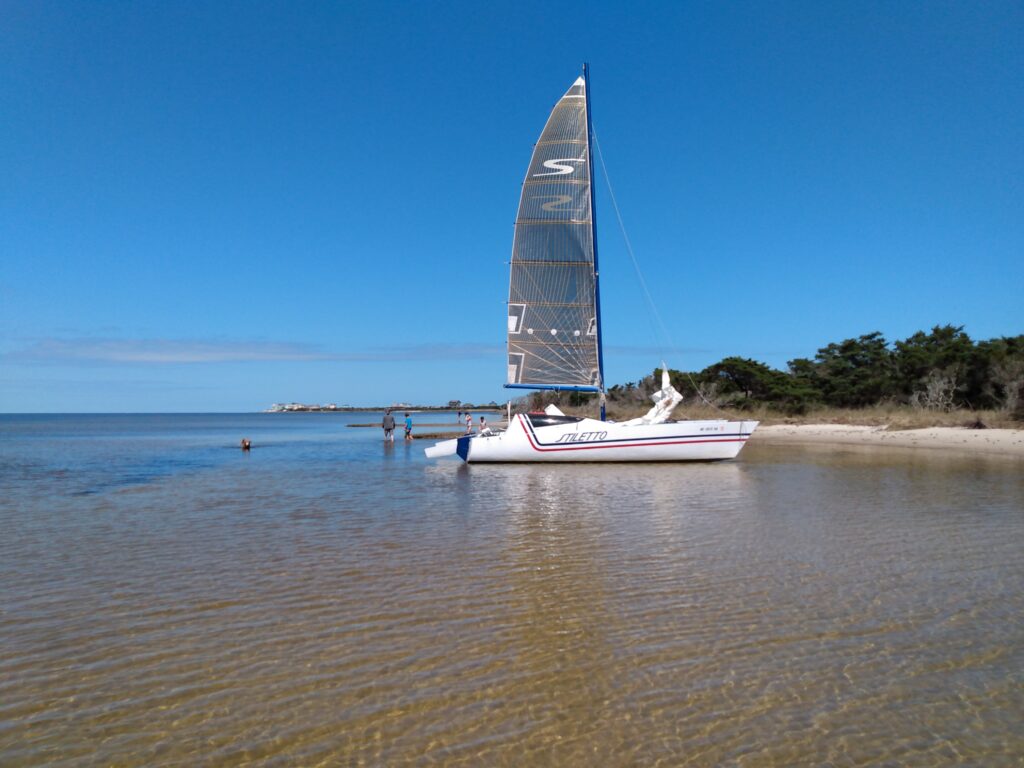 Favorite spots for sailing around Avon
We have a few favorite spots to visit when we are sailing around avon harbor. There are nice beaches north of the harbor and it is not too far of a sail to visit kite point and canadian hole. The winds are often SW in summer, and that makes for a nice upwind beat to Kite Point and a nice downwind run back.
If you scan the coastline north and south of the harbor. As you make your way, you will see several little bayside beaches. They are fun to explore and work well for a nice afternoon picnic spot. Clamming and crabbing are definitely activities to consider as you're sailing.
Coaching with Hatteras Sailing Organization
Learning to sail around Avon in the shallow Pamlico Sound
Captain Jay teaches youth and adult sailors with the Hatteras Sailing Organization. Learning to sail with Captain Jay is a great way to enjoy sailing around Avon when you are visiting the Outer Banks. Outer banks sailing is unique in many ways, but of most importance are the frequent wind shifts and shallow waters.
Particularly when you are sailing around Avon Harbor, you need to pay attention to the depths. It is pretty easy to see the shallow spots around Avon Harbor by pulling up Google Earth – the light spots are shallow and darker spots are deeper. The entrance into Avon harbor can be quite a challenge for boats with drafts greater than 3.5-4′.
Even on the small boats, it is important to watch the depths in the sound as you are sailing. Be sure to have your centerboards or daggerboards rigged so they are easy to pull up when you need to.
Phillips BoatWorks teaches private sailing lessons each week in summer. We have a range of boats from beginner to more challenging small boats to begin learning to sail. Sailing boats is a great partner to kitesurfing and windsurfing during your Hatteras Island vacation because the wind ranges compliment each other. So if there is too much wind for sailing, go kitesurfing or windsurfing. When there is not enough wind for kiting or windsurfing, go sailing!
Optimal Wind Ranges
Sailing Boats: 6-15 knots
Kitesurfing: 12-25 knots
Windsurfing: 15-30 knots